Here's a picture of the old days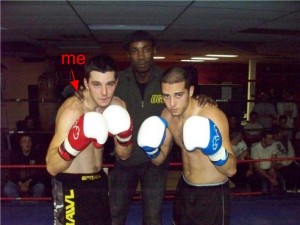 Hey Coach Cyril here, thanks for checking out my training web page.
I am 28 years old and Ihave been coaching martial arts for 5 years now. It is my passion since the day I knew it exist. I started with karate at the age of 7. I didn't like the kata thing so I quit and went to play football. It helped me a lot with my shoot ;). In 1999 the love story continued with Jeet Kune Do. That was the beginning of my martial artits life. I was dedicated to the sport. I wanted to know all the trainings possible to uprade my skills. But there was something missing, in 2005 I began an intense MMA training. My goal : Build an Arsenal. With good coaches in BJJ and Submission Werstling, my grappling skills went to a whole other level. I began to coach JKD grappling in 2008 and since 2011 Im a MMA coach in a local MMA gym: Academie ProStar MMA. I still got a lot to learn!